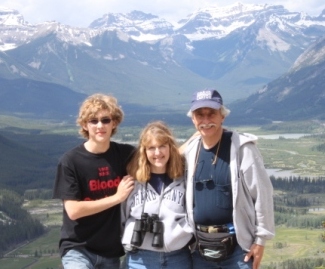 Dr. James Butner, with his wife Kay, and son Matthew, was born and raised in Vinita, graduating from Vinita High School in 1972. He went on to undergraduate school at Oklahoma Baptist University in Shawnee. His area of concentration at OBU was the pre-med program with emphasis in Biology and Chemistry. He graduated in 1976 with his Bachelor of Science degree.
Dr. Butner went on to Optometry School at the Southern College of Optometry in Memphis, Tennessee. He spent part of his senior year of optometry school in Colorado Springs, CO, completing an externship at the Air Force Academy and the Air Force Academy Hospital. He graduated from SCO in 1980 with his Doctorate in Optometry.
He returned to Vinita to open his optometric practice. Family Eye Care has been seeing patients at the same location ever since opening in September, 1980.
One of Dr. Butner's ongoing goals is to keep Family Eye Care up to date with the latest diagnostic equipment and procedures available. He knows that progress is continually made concerning eye care, and strives to give his patients only the best care in every way possible.
Dr. Butner also is continually involved in volunteer mission work. He has made several trips to West Africa and Ecuador, working with missionaries to provide eye care and glasses to people who would otherwise have no access to vision care. To see more about Dr. Butner's mission trips, click on the Mission Trips link on our home page. The most recent trip was to Benin, West Africa in March of 2007.
Dr. Butner is very family focused. He and his wife, Kay, have been married 35+ years. They have one son, Matthew, who lives in Oklahoma City. Dr. Butner and his family attend First Church of God, in Vinita. Dr. Butner and Matthew share several hobbies. Their most recent project was restoring a 1965 Short Bed GMC Pickup.