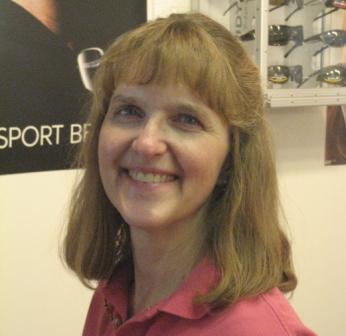 Kay Butner has been a part of Family Eye Care ever since she and Dr. Butner were married 35 years ago. Over the years, she has learned to perform most of the tasks necessary for the daily operation of Family Eye Care. Her main responsibility is as lab technician, but she also handles accounts payable, and fills in with patient care whenever an extra hand is needed.
Kay grew up in Pawhuska, graduating from Pawhuska High School in 1976. She went to Oklahoma State University, where she earned a Bachelor of Arts degree in Special Education. After graduating in 1980, Kay moved to Vinita to start her teaching career. She and Dr. Butner met in church in September, 1980, and were married the following June. After teaching special education for 6 years, and spending summers working part time at Family Eye Care, Dr. Butner and Kay realized that working together would be the best for both their family and for Family Eye Care, and she quit teaching to work full time at Family Eye Care.
When she's not working, Kay enjoys several hobbies, including reading, Bible Study, walking their dogs, and spending time with Dr. Butner and Matthew.